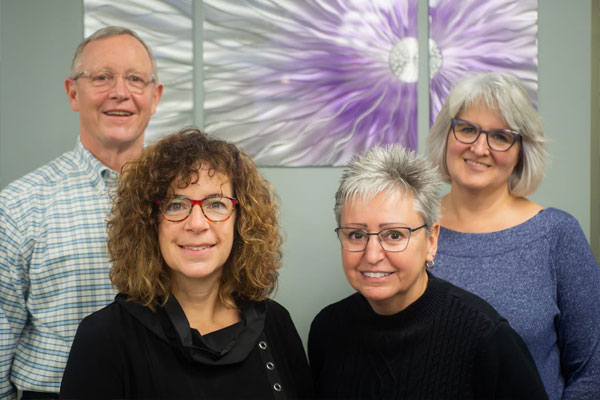 About Us
As an owner-operated business, Gold Circle Optical offers an alternative to the big box chain stores with personalized service from someone you know and trust. Whether you are looking for a new everyday pair of glasses or a spicy pair for a night on the town, we want you to have a great experience and find the perfect pair. We are committed to being your source for the newest trends and the latest technology. Our optometrist and opticians work together to determine what types of lenses and eyewear will work best for your visual needs in terms of comfort, function and clarity.
We are members of the Buffalo Executives Association (BEA).
We proudly support locally owned businesses and invite you to do the same.
Meet Our Team

Dr. Aimee Miller

Optometrist
Dr. Aimee Miller received a Bachelor of Science in Molecular Genetics from the University of Rochester. She graduated Cum Laude from the Illinois College of Optometry, receiving her Doctor of Optometry degree in 1994. While attending optometry school, Dr. Miller was a member of two honor fraternities; Tomb and Key and Beta Sigma Kappa. While in school she received a contact lens award from Bausch and Lomb. In addition to her training and skills in general optometry, Dr. Miller has an interest in contact lenses, dry eye, post-surgical care for cataract surgery and eye diseases.

Terri Bednarski

Owner / Optician
Terri is passionate about providing high quality care to our family of patients. Terri's focus is on exceptional customer care while taking the time to understand what each person's personal needs are. As an owner, the importance of personal relationships, professionalism and honesty have always been at the heart of this warm and friendly optical boutique.

Kathy Burke

Optician
Kathy's commitment to her profession is easy to see. Kathy will admit that frame "styling" is her favorite part of the day. You will get her honest opinion on how each frame fits, looks and most importantly will respond to your personal prescription. As a lover of animals, when not at work Kathy can be found at any one of our local parks walking her rescue dog, Lacey Rose.

Robert Schaefer Jr.

Optician
Robert has over 50 years of optical experience. Bob is a licensed New York State Optician (NYS #3936) and a member of the New York State Society of Opticians, the American Board of Opticians Certified, Western New York Optical Group and Optical Society of Western New York. Bob is also a current member of the Buffalo Executive Association and has been since 1990. He also volunteers at the Good Neighbors Medical Facility and as a Loundsbury Adaptive Ski Instructor. Bob enjoys sailing, camping, playing hockey and spending time with his family: his wife, 4 children, and 3 grandchildren.